DIY Linen Chute UK - Various Steps to Put Together a Boxed in Linen Chute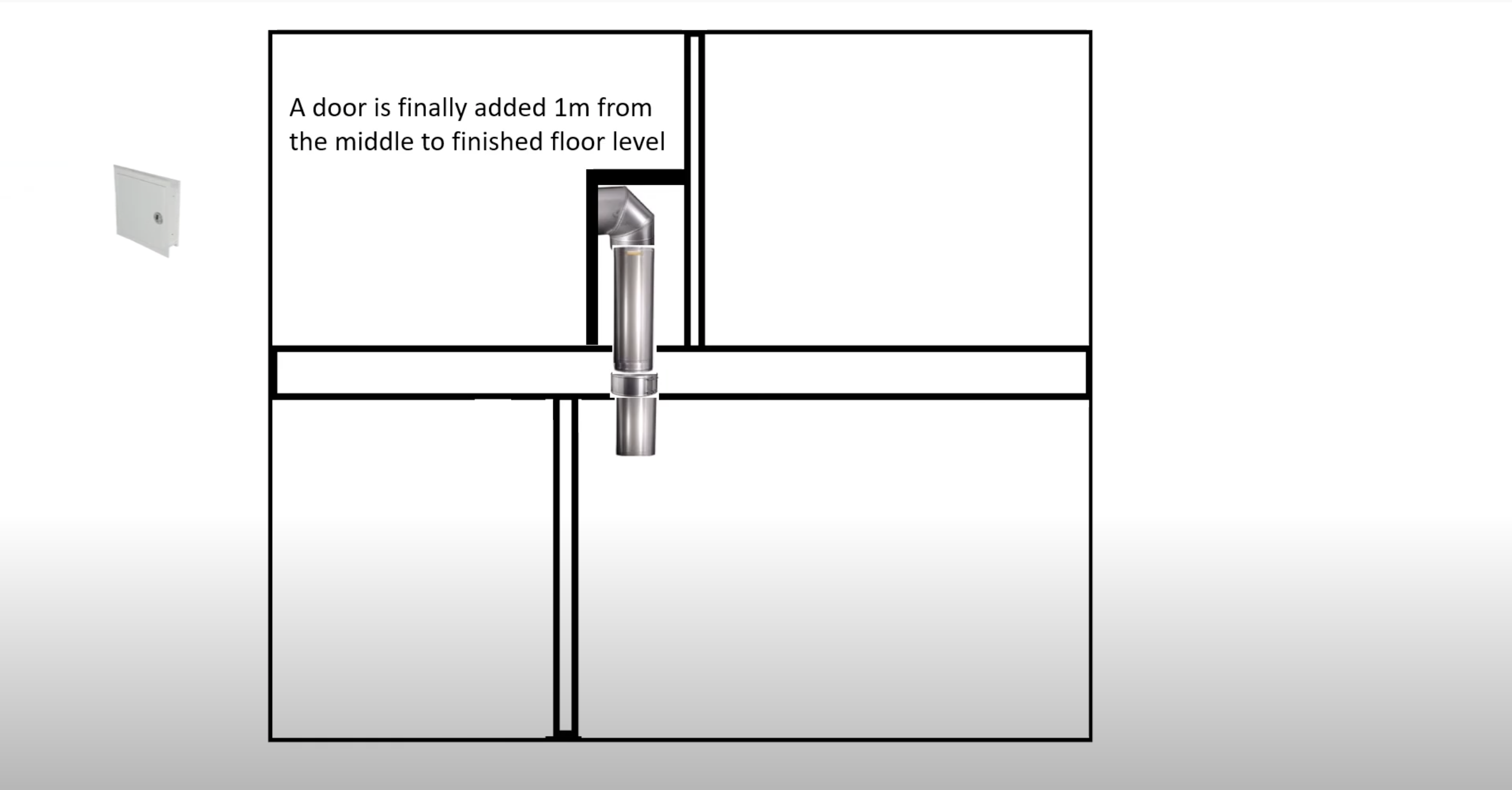 DIY Laundry Chute UK: How To Build And Install A Laundry Chute (With Video)
The laundry chute or linen chute is a great way to send dirty clothes directly to the utility room. You can even install a laundry chute in your bathroom so you don't have to step over wet towels when getting ready for the day.

If you're looking for an easy way to send your laundry downstairs, you may want to consider installing a DIY linen chute in your home and adding it to your linen chute plans. This is an excellent option if you have a lot of laundry to do or if you live in a home with two storeys or more. In this blog post, we'll cover everything you need to know in order to build and install your own DIY linen chute. For a detailed explanation, stick around to see the video tutorial at the end!
What Is A Laundry Chute?
A laundry chute or linen chute is a vertical (normally round) shaft that allows you to send your laundry downstairs (or outside) without having to carry it. Linen chutes can be made from various materials, but the most common is metal (ours are 316L grade stainless steel). The linen chute dimensions can be from 200mm to 900mm, and our most popular size - is 300mm (12 inches).
With linen chute kits, it's never been easier to create a modern linen chute in your home and how to make a linen chute has become the go-to query for homeowners. So whether you're looking to install a linen chute with a door horizontal or a wall linen chute, we've got you covered.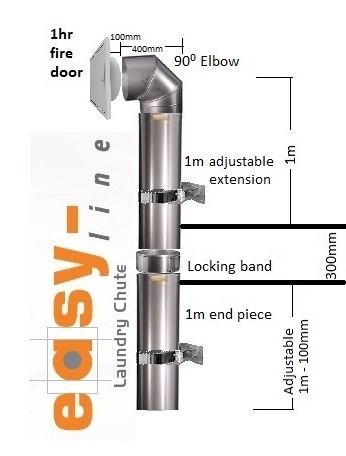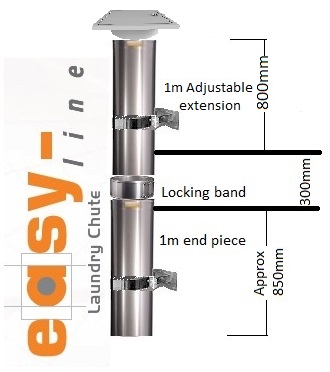 Why Install A DIY Laundry Chute UK?
There are a few reasons why you might want to install a DIY linen chute in your home. Sadly, over 700 people die every year in England alone as a result of a fall on a set of stairs and a further 43,000 people are hospitalised annually because of stair-related accidents. The report doesn't go into detail how most injuries happen but if you have ever carried laundry downstairs before you can imagine how easy this could happen. If you have a lot of laundry to do, having a linen chute can save you a lot of time from having to carry each load downstairs.
A fire-rated linen chute adds value to your home. As a linen chute is built with the house it will add around the same purchase price to your home as long as you purchase a stainless steel chute with a fire-rated door and it complies with fire regulations you are covered.
Finally, a home linen chute makes it simple to keep your home organized. If you have kids, you know that laundry can quickly pile up quick. By having a designated place for all of your family's dirty clothes, you can help keep your home tidy and organized, your kids may even use it. If you are not good at DIY you can request for the linen chute to be installed by a reputable supplier although the DIY option is better suited for most of our customers.
Are Laundry Chutes Legal?
Are linen chutes illegal or legal to have in your home? The answer to this question depends on where you live. In the United Kingdom, linen chutes are legal as long as they follow specific guidelines. For example, all linen chutes are required to have fire doors fitted that are rated to at least half an hour according to the Building Standards (ours are 1hr minimum and also have a smoke seal). Fire doors will help to slow down the smoke or flames that may spread through the chute in the event of a fire. For an extra layer of safety, you can install a self-closing fire door to ensure that your linen chute is always properly closed. For a linen chute to be installed over three floors with two doors in the UK & Ireland this is mandatory. The hole opening where the chute goes through must be sealed with fire-rated material and the chute must be enclosed in a minimum of 30 min fire-rated material (normally plasterboard) in a domestic home.
Thankfully, by using the right linen chute kits, it's easy to create a safe and legal linen chute in your home.
How to choose the right laundry chute for your home
Send us your plans or a drawing with floor-to-ceiling heights and any other relevant information regarding the room at the top of the chute where it starts and the room at the end of the chute. If you don't have this give us a call 01563 555881.

How To Build A DIY Laundry Chute UK
Building a linen chute in-house is a relatively easy project that anyone can do. In this section, we'll cover each step you need to take in order to build your own DIY linen chute. A two-storey house chute should take around 1-2 hrs to install (not counting boxing in)
Choose A Location For Your Home Laundry Chute Without Obstructions
One of the most important things to consider when preparing to install a laundry shoot or chute is the location. You'll want to choose an area with no obstructions, such as windows or doors. This will ensure that your linen chute is safe and easy to use. You will also need to check there are no floor joists or pipes etc under the floorboards where the chute will pass through.
Remember if the size of the linen chute is around 300mm that you keep that in mind when choosing the location of your wall linen chute door. Once you've found a spot, you'll need to fit the wall bracket, including the 1m extension, followed by the front of the wall bracket. Lastly, fit the end piece of the chute laundry kit. If more than two floors you will obviously require more pipe. Our extensions come in 200mm, 330mm, 450mm & 1m lengths. They are also in the same adjustable sizes.
Ideally, you will want the chute to end near the washing machine. If it can't go directly down you can offset with 15° 30° or 45° elbows.
Ensure The Locking Band Is Fitted
The next step is to make sure that the locking band is fitted securely between the 1m adjustable extension and the end piece. This is an important safety feature that will ensure the integrity of your linen chute in-house. So while the wall brackets will hold the actual linen chute from moving, the locking band will ensure that it will not twist. Only our adjustable lengths require locking bands and come free with the extension. Our normal extensions are a tight fit and will not move or twist.
Install The 90° elbow
The next step is to fit the 90° elbow of the kit at the top of the chute if installing a vertical door. This should be done by pushing the male part of the 90 into the female part of the extension facing in the direction of where the door will be hung.
Install The Door

Now it's time to install the door! This is a crucial step in order to ensure that your linen chute is safe and secure. Start by measuring the chute's opening and then cut the opening to size using a jigsaw if there is plywood behind the door or add noggins around the 90 so the door can be secured to them. Again, it's essential that you get a snug fit, so take your time with this step. You may wish to remove the door again at this point for decorating and install it again at the final fix.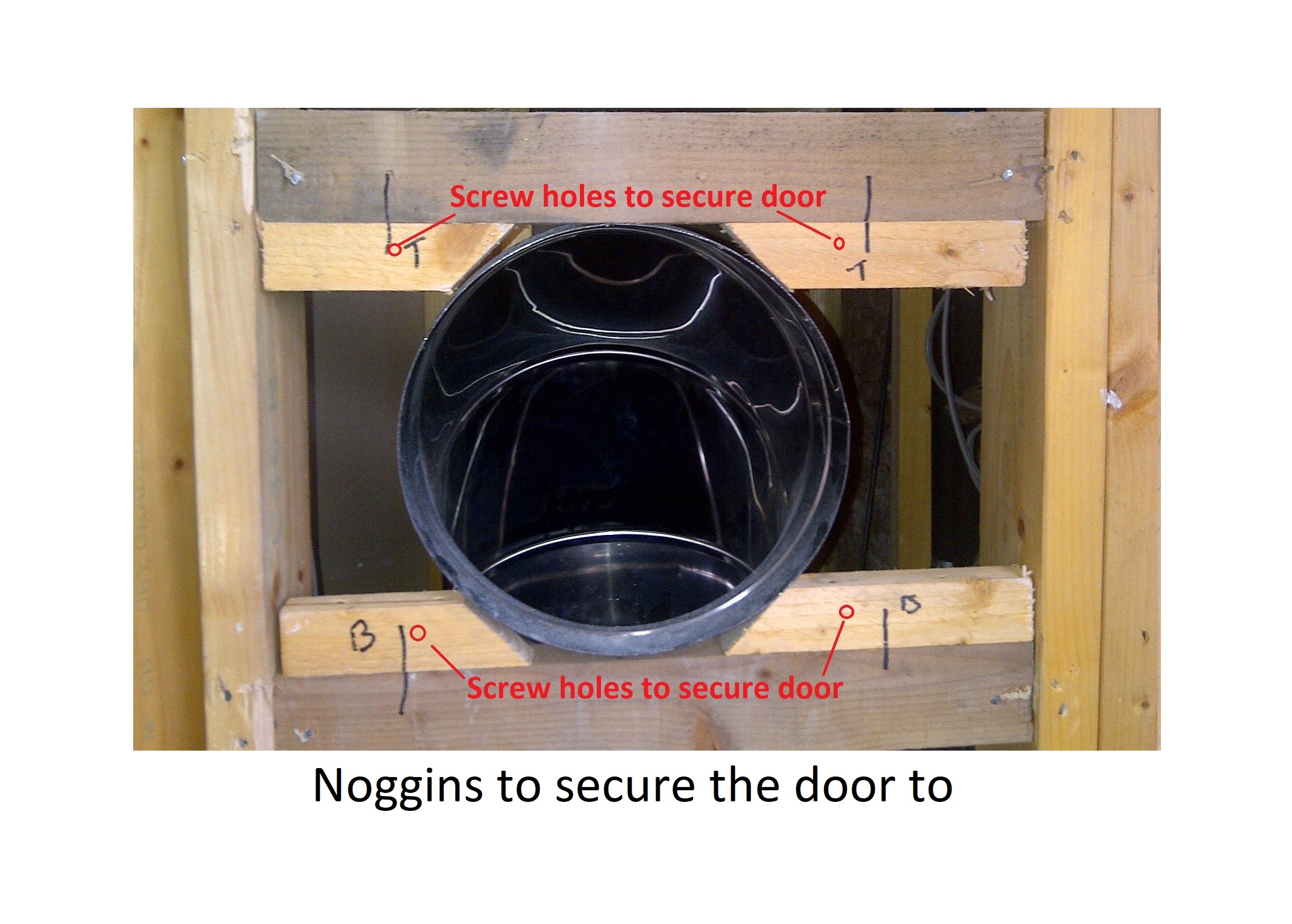 While there are many linen chute kits for sale, you'll want to make sure the one you choose is the right linen chute size, meaning that it is built to create a linen chute in-house versus larger commercial laundry kits. Finally, make sure that the linen chute liner is constructed from high-quality materials to ensure that it will withstand years of use. Wooden or galvanised linen chutes will rot through time and will have burr points which can cause blockages or damage to your clothes. Our linen chutes are seamless welded grade 316L stainless steel. They are then acid cleaned to remove any edges giving a smooth clean highly polished finish.
Wrapping It Up
This DIY linen chute is an ingenious way to get your clothes down the stairs without having to lift them over the banister. Simply slide your clothes through the hole and they'll fall safely down the stairs.
Features:
• Easy to install
• Can be used with standard laundry baskets
• Suitable for both front and rear staircases
Benefits:
• Save space in your laundry room
• Easier access to laundry going into the washing machine
• Removes the risk of slip or trip downstairs while carrying laundry
• Adds value to your home
A DIY Linen Chute UK may seem daunting, but it's quite simple to do. By following the steps above, you'll be able to build and install your own linen chute in no time. And once it's installed, you'll wonder how you ever lived without a linen chute floor or wall chute in your home! We hope you got a few linen chute ideas from this blog post!

Finally, we provide a detailed drawing of your specific chute and if need be a video like the one below showing how your chute will go together. We also supply a mobile telephone number should you require guidance during the installation of your chute.
If you have any questions about DIY Linen Chutes or would like a custom chute to match your specific home or requirements, allow us to create a no-obligation quote and drawing of a DIY Linen Chute for you. If you have any linen chute repair requests feel free to get in touch also. Contact us today to get started.
For More Information, Watch The Video Below: